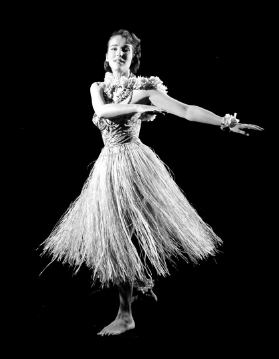 Book Review
Classic Images
March 2012
By Laura Wagner
Julie Adams – think of her and immediately the image comes to mind of a girl in a white bathing suit being pursued by the Creature from the Black Lagoon. Starring in that 1954 classic brought Adams fame, but there was much more to this talented actress' career. Now, we get her story in her newly released autobiography, The Lucky Southern Star: Reflections From The Black Lagoon ($29.95, plus $3 postage, Hollywood Adventures Publishing), written with her son Mitchell Danton.
Julie started her film career in 1949 and co-starring in a series of Westerns, billed as Betty Adams, with James Ellison. A move to Universal-International in 1951 was propitious, and she starred or was featured throughout the 1950s, mostly as good girls, but at her best as a bad girl, in films like Bend of the River (1952), Horizons West (1952), The Lawless Breed (1953), The Private War of Major Benson (1955), Away All Boats (1956), The Gunfight at Dodge City (1959), etc.
Adams was an appealing actress, beautiful to the eye, but not a lot was expected of her during this time. It took a move to television, where she was an extremely busy actress, to show what she was made of artistically. Based on the TV roles I've seen her in, I believe she was underappreciated. Her skillful handling of a variety of roles belies the claim she was just a pretty face. Adams had the chops! I distinctly remember her in a Police Woman episode from the 1970s. It was a small part, just a couple of small scenes, and then a larger appearance near the conclusion. The intensity and thoughtfulness that Adams put into her character was stunning, her emotional playing bringing the episode to a breathtaking conclusion. Another performance I greatly admired was her stylish queen to the pharaoh on a Greatest Heroes of the Bible episode late in the '70s.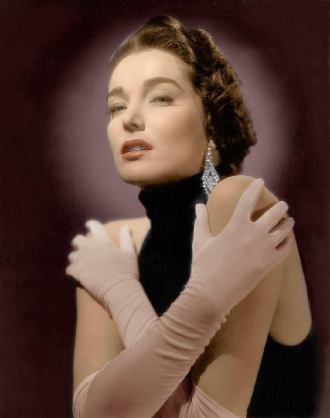 Unfortunately, television acting engenders little respect in the industry, but if you go to the trouble to look up old episodes from her TV series work, you will love and appreciate her more than ever. Fortunately, she has been working steadily on TV for decades, and has continued working into the 2000s.
I knew little of Adams' life before this book, and was surprised when reading of her difficult childhood. You've got to commend Miss Adams for her unwavering faith in her abilities and for her guts and determination to succeed, no matter what. What comes across vividly in these pages is what a truly nice person she is – no ego or phoniness on display. She handles sticky situations she writes about with discretion, but with honesty.
And she loves to act. There are paragraphs where she simply talks about the movies she worked on, her co-stars, and her characters and how she played them. This is a lady serious about improving her acting, and broadening her range. Her analyses of her movies should give her fans insight into not only her favorite films, but also her approach to her craft. Of course, there's a whole chapter devoted to Creature from the Black Lagoon, and she doesn't disappoint on details. There are loads of swell behind-the-scenes photos from the movie, too. Her reminisces about Ben Chapman, one of the actors in the Creature suit, are very special and sweet.
Speaking of photos – my God, there are close to 200 here! Being a photo collector myself, I was overjoyed by the fabulous shots. On page 51 there's one from The Stand at Apache River (1953), showing her with a flaming arrow in her shoulder. In the text, Adams remarks, "If you ever watch the film, take note that the terror in my eyes as the flaming arrow hits was not all acting." The story about this particular scene (and how the effect was achieved) is harrowing. In fact, Adams went through more than one dicey incident on camera. The story of a candle setting fire to the curtains in One Desire (1955) is a doozy; the sounstage almost went up in smoke. Even better was an episode of The Big Valley, where she fights with Barbara Stanwyck as a fire rages around them. "The moment I remember clearly," Adams writes, "was that in the midst of the struggle with Barbara, the stage seemed to be ablaze all around us; it was getting really hot and I was ready to get out of there. Then I saw Barbara head back in toward the heat of the fire and I thought to myself, "If Barbara Stanwyck's going back in there, so am I!" I rushed back toward her and the flames and we mixed it up pretty good."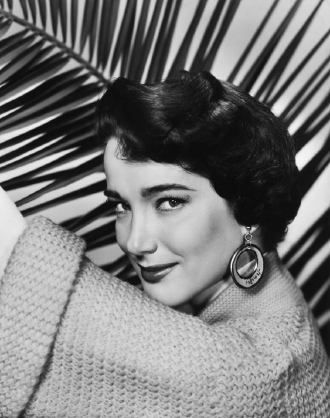 Many of the photos reflect the anecdotes Adams tells, which is good. For instance, she writes at length about working with James Stewart on Bend of the River and the intimate scene they played by a wagon, and there, on the page, is the photo of that same scene. Making the photos stand out even more is the use of glossy, high- quality paper in the book. It boasts a very attractive page layout as well.
Miss Adams covers a lot of ground in her memoirs, detailing stories about working with the likes of Elvis Presley (Tickle Me), Robert Ryan, Tyrone Power, Joel McCrea, John Wayne, and Raymond Burr; recounting her trip to Peru to act with Dennis Hopper in The Last Movie (1971); and discussing a little-known aspect of her career – her work in theatre. Here is an actress actually concerned with what her fans want to read. I was surprised by the amount of television she dealt with in the text. How many autobiographies have you read where the star goes into any detail about individual TV episodes? It helps greatly that Miss Adams is a film fan. Her love of movies is transmitted to these pages, and her love of the craft of acting – the way she describes the process she went through to communicate to audiences – helps the reader to understand her better. The fun she conveys when discussing, say, her regular part on TV's Capitol, is infectious.
I absolutely adore The Lucky Southern Star, my only complaint is that it was so readable that it went by much too fast. Julie Adams has written an entertaining, intelligent, uplifting and perceptive book. Film fans will love it. To order, go to www.julieadams.biz. While supplies last, you get a free commemorative CD of The Creature from the Black Lagoon soundtrack.